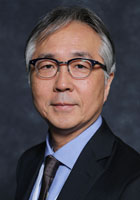 Dr. Shinya Ito
Professor and Head, Division of Clinical Pharmacology & Toxicology, Department of Paediatrics, University of Toronto
---
Shinya Ito, MD, FRCPC, Professor and Head, Division of Clinical Pharmacology & Toxicology, Department of Paediatrics, University of Toronto; Senior Scientist, Research Institute, Hospital for Sick Children. Chair of the Drugs & Therapeutics committee at the Hospital for Sick Children. Graduated from Jichi Medical School, Japan, in 1979. Served as a general practitioner/Paediatrician in remote areas of Japan (1982-1986). Came to Toronto in 1989 as a clinical fellow in Division of Clinical pharmacology & Toxicology. Became a staff of Department of Paediatrics, Division of Clinical Pharmacology & Toxicology in 1995. At present, he is Chair of the specialty committee in Clinical Pharmacology & Toxicology, the Royal College of Physicians and Surgeons of Canada, and the Past President of the Canadian Society of Pharmacology and Therapeutics.
Research focus
Breastfeeding pharmacology: Clinical and basic research of drug safety during breastfeeding and drug transporting proteins with a particular focus on vitamin-drug interactions (New Eng J Med 2000; Mol Pharmacol 2012, Am J Physiology 2016).
Global Research in Paediatrics: This is an education research project, which develops educational infrastructure for Paediatric drug studies. One of the appointed leaders of the project, directing the global fellowship program and the scientific director of the global Master program in Paediatric pharmacology. Funded by EU.
Pharmacogenomics: Site director of the Canadian Pharmacogenomics Network for Drug Safety. Conducting pharmacogenetics projects.
Clinical focus
Drug safety in breastfeeding and pregnancy
Adverse drug reactions in children
Pharmacogenetics
---
Sessions: